WORSHIP TIME 10:30 a.m.
We're back to in-person services at 10:30 a.m.? Socially-distanced, masked and no longer restricted to 15% capacity (adhering to AHS Stage 2 reopening guidelines). We will continue to live stream to our Facebook page and on YouTube.
Fourth Sunday after Pentecost Bulletin
Month of Mission Links
June 15 ~ Mission Flourishing during Pandemic (registration required)
June 22 ~ Spark Session & Devotional
June 29 ~ Spark Session & Devotional
Welcome to the St. Barnabas Community

A place to belong . . .

A place to serve . . .

A place to learn & grow . . .

Letter from Archbishop Gregory Kerr-Wilson regarding AHS Stage 2 reopening



Our Church is at 635 - 4th Street SE.


We are across from the City of Medicine Hat Transit Terminal. There is additional parking behind the church (off 5th Street) in the covered parking lot and in the Transit Terminal.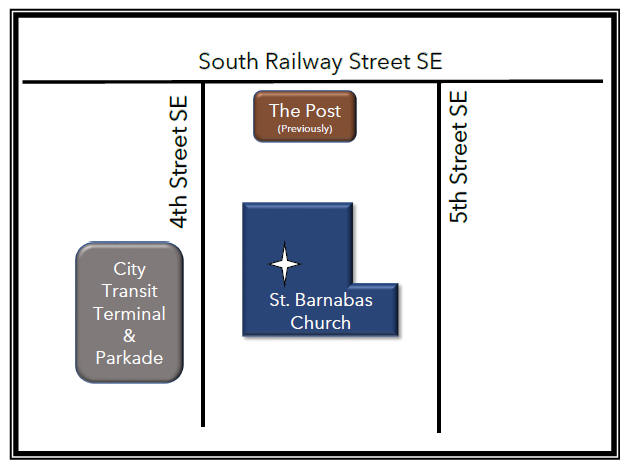 Our Office is located at the back of the church.
Office Hours: Monday ~ Friday 10:00 a.m. ~ 2:00 p.m.
Contact: (403) 526-7713
(403) 526-3725 office@stbmh.ca